Turn More Shoppers into Buyers

SM

Retail sales declining? Growth not fast enough? Fewer shoppers through the doors?
How can we turn more of the shoppers we already have into buyers?
-"Mystery Shopping" for your dealerships

-Patent-Pending process is easy-to-use, accurate, effective

-National benchmarking by brand: How do your dealerships compare; and what can be done to improve?
Manufacturers, dealer groups and individual dealers hire us to measure and help improve the effectiveness of a dealership's sales process by conducting anonymous "mystery shop" evaluations using our patent-pending Pied Piper Prospect Satisfaction Index® (PSI®).
Automotive Mystery Shopping; Motorcycle Mystery Shopping; Also RV & Marine
PSI measures Sales Effectiveness three different ways:

when a shopper walks through the door (In-Person Mystery Shopping)
when an Internet Lead is received (Internet Mystery Shopping)
when a Telephone Lead is received (Telephone Mystery Shopping)

Inexpensive and easily pays for itself - In-Person evaluations for most USA locations cost about $100 each; Internet or Telephone evaluations $39 each.
Very simple and easy to use by OEM and dealership employees
Compares performance to industry and brand averages; clearly identifies deficiencies and drives improvement immediately
Unbiased, "just the facts" approach embraced by dealers
Incorporates easily into other internal programs
Tried and proven, unmatched industry expertise respected within industry
No long-term commitment required - cancel or reschedule any time
Dealers use Pied Piper PSI to quickly and easily
Measure their own sales process
Compare their own sales process to that of same-brand dealers nationwide
Identify sales process areas in need of improvement
Improve their sales effectiveness and retail incremental units
What's different about our patent-pending approach?
Get rid of Guesses and Opinions: Traditional "mystery shopping" is often helpful, but does it leave you with nagging doubts and questions? How can you be sure you're asking the right questions? Do the "fake shoppers" behave the same way as "real" buyers? When you have the results, what do they mean? Compared to what benchmarks?
Bring on Facts and Science: Our patent-pending process removes all of the fatal flaws of the traditional mystery shopping process. Pied Piper PSI first starts with mathematical facts and science gathered from "real" shoppers throughout the country to determine what is important to an industry's sales process and what is not. This unique approach allows us to then use hired anonymous shoppers merely as "fact gatherers" rather than relying on them to tell us what's important and what is not.
National Benchmarking: The patent-pending Pied Piper PSI process is the only one which provides national benchmarking by brand. How does the sales effectiveness of your dealership compare to the national average performance of other same-brand dealerships? How does the performance of one brand compare nationally to the performance of a competitor brand, or to the industry average?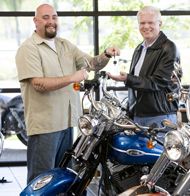 Step-by-Step Diagnostics: See how your dealership compares-overall as well as step by step of the sales process-and quickly determine sales process areas needing additional attention.
Easy-to-use Reporting: Pied Piper PSI is quick and simple to use. Reports are provided by email and on-line, and both management and salespeople will find the reporting powerful but straight-forward, easily identifying areas of opportunity.
Just the facts: "Switzerland": Do we tell dealers how to sell using "our" method? No, we are neutral, (like Switzerland). We first measure the mathematical relationship between each aspect of the industry-specific sales process; then measure how-on average-each brand's dealerships sell. We report these facts to our clients along with measurement of how their dealership sells. Just the facts. We believe that our clients are more than capable of using these facts as a benchmark to then decide how best for them to sell at their dealership.
Best Practices: Our customers asked us to add a "Best Practices" section, where we could share examples of how top-performing dealerships handle each aspect of the sales process. Not only are best practices examples provided, but Pied Piper PSI customers may also share their own thoughts and comments on-line about what has worked for them, and read what other dealers say.
It's inexpensive and quickly pays for itself: One incremental sale at a dealership easily pays for a full-year of monthly Pied Piper PSI shopper evaluations. There is no set-up cost and no long-term commitment.
Does it work? Dealers and manufacturers who improve Pied Piper PSI sell more vehicles
What are the facts? On a brand level, dealer networks which as a whole improve their PSI performance also improve their retail sales performance; and brands with declining PSI scores suffer declining retail sales. Example: Each year when U.S. auto brands are ranked from top to bottom for change in retail sales vs the previous year, most of the top brands will have also increased or maintained their average PSI scores from year to year. And most of the bottom brands for retail sales performance will also have declining PSI scores from year to year.
How about a dealership-by-dealership example? A manufacturer client who purchases monthly Pied Piper PSI evaluations for all of its U.S. & Canadian dealers provided some interesting statistics to us after their first year as a Pied Piper PSI client:
Dealers who improved their average Pied Piper PSI scores by 10 points or more from year to year saw retail sales increase 9% during the same time period.
On the other hand, dealers for whom PSI dropped by 10 points or more saw their retail sales drop 6%.
The top one-fourth of the entire dealer network, when ranked by PSI scores, saw retail sales grow 5% from the previous year.
In contrast, the bottom one-fourth of their dealer network by PSI scores suffered a 4% drop in retail sales.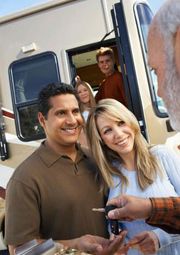 What can Pied Piper PSI tell us about specific sales process behaviors and their impact on retail sales?
Manufacturer clients for whom nationwide Pied Piper PSI evaluations are completed monthly generate enough data to calculate statistical relationships between specific sales process behaviors and dealer retail sales success or higher than average per-unit dealer gross profit. Some examples?
A motorcycle manufacturer used Pied Piper PSI to find that their dealerships which offer test rides at least 75% of the time retailed 43% more units than those who did not. Pied Piper PSI U.S. Motorcycle Industry Benchmarking shows that on average motorcycle test rides are offered 19% of the time.
An auto manufacturer used Pied Piper PSI to find that their dealerships which always ask for contact information retailed 29% more units than those who did not. Pied Piper PSI U.S. Auto Industry Benchmarking shows that on average salespeople ask for contact information 83% of the time.
An auto manufacturer used Pied Piper PSI to find that their dealerships with salespeople who provided compelling reasons to buy from their dealership at least 75% of the time generated an average per-unit gross profit $477 higher than those who did not. Pied Piper PSI U.S. Auto Industry Benchmarking shows that on average salespeople provide compelling reasons to buy from their dealership only 49% of the time.
How does Pied Piper PSI work?
Manufacturers and national dealer groups arrange for Pied Piper PSI evaluations for their dealer network, or individual dealerships order Pied Piper PSI evaluations directly on this site. During the designated month, Pied Piper PSI shoppers will anonymously visit the retail location, go through the sales process without buying, and report their findings for 50+ separate elements of the sales process back to Pied Piper PSI. The retailer will shortly receive an email notification with their Pied Piper PSI Shopper Evaluation Report attached. Additional reporting is available on-line for viewing and printing.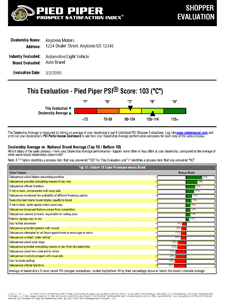 What's in a Shopper Evaluation Report?
Pied Piper PSI Score for the retail location. Overall evaluation of the location, directly comparable to Pied Piper PSI Scores for the industry overall, or for a specific brand.
Easy to understand "A - B - C - D - F" grade for this Pied Piper PSI evaluation; plus the same grading scale for the dealership average.
Top 10 / Bottom 10 Chart. Calculated as an average over the last six dealership evaluations, this chart shows sales process areas where the dealership falls furthest above or below the national average of other same brand dealerships.
Question-by-Question Detail. Detailed insight into 50+ separate elements of the sales process.
Shopper Comments. The visit in the shopper's own words for 20+ separate elements of the sales process.
What else can I see? On-Line Benchmarking.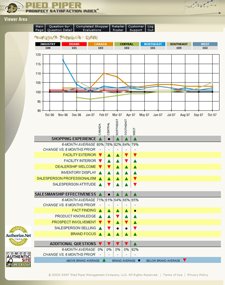 The Shopper Evaluation Report is just the first step. As soon as a retailer receives their first Shopper Evaluation Report, on-line benchmarking is turned on for the retailer.
On-line benchmarking allows the retailer to see how their operation compares-question by question-to the average for other same-brand retailers, as well as to the overall industry average.
On-line reporting also includes the PSI Performance Dashboard. The PSI Performance Dashboard takes an average of the dealership's last six evaluations to determine the dealership's typical sales process. Dealerships are then able to measure and track their sales process, rather than just one-off evaluations of a single salesperson or a single shopper.
Compare your retail location's performance overall.
See how your retail location performs for a specific month, or see how your six-month rolling average Pied Piper PSI score compares to the same-brand average, and to the industry average.
Compare your retail location's performance question-by-question.
Results are shown for a multitude of specific elements of the sales process, divided into categories depending upon the industry.
Examples of sales process categories include the following:
Dealership Welcome
Inventory Display
Salesperson Professionalism
Salesperson Attitude
Facility Exterior
Facility Interior
Fact Finding
Product Knowledge
Prospect Involvement
Salesperson Selling
Brand Focus
Annual Manufacturer Pied Piper PSI Study
Pied Piper PSI analysis and reporting is also provided to manufacturers to help them identify and target areas of national importance. Manufacturers are provided a comprehensive review and presentation of their Pied Piper PSI performance, which not only delivers annualized benchmarking data for their industry, but also identifies statistical relationships showing which aspects of the sales process are most critical for their industry and for their specific brand.
How does Pied Piper PSI compare to "sales satisfaction index" owner surveys?
In the motor vehicle industry, a "sales satisfaction index" accurately measures what happens during the time between when…
a shopper decides to buy a vehicle
and
the shopper drives away from the dealership, having completed all of the required paperwork
Ironically, unlike Pied Piper PSI which accurately measures how effectively a sales team sells, it can be argued that a "sales satisfaction index" does NOT... Why? 4 Reasons: Click here to read more.
What do others say about Pied Piper PSI?
Manufacturer: "We have been blown-away by what Pied Piper PSI has done for our dealer network. Here's the bottom line: Poor performing dealers who have used PSI to "act like" a great performing sales dealer have soon become a great performing sales dealer."
Manufacturer: "I think the concept of measuring 'Prospect Satisfaction' and using it to generate incremental retails is something the auto industry has been missing for years, and I believe that Pied Piper PSI will continue to grow as an automotive industry benchmark. PSI is the rare program that delivered immediately for us, and was also embraced by our dealers."
Honda Auto Dealer: "I think your program is fantastic. We've used the bad surveys (we've had a bunch) to do some individual training. And we're training the entire staff using the survey format. I am so impressed with the Pied Piper program and surveys that I've already signed up with you guys for our Acura store (at our expense). Thanks for your help."
Manufacturer: Explaining why his company chose to measure and benchmark dealer sales performance every month using "prospect satisfaction" and Pied Piper PSI instead of using the more common measuring stick—customer sales satisfaction, the CEO said that they opted against CSI surveys—because "it's creating the wrong type of relationship between the dealer and the customer." He said such surveys put pressure on dealer staff to convince consumers to give them high scores on such surveys. By choosing Pied Piper PSI instead, they ensured that the evaluation of the dealership's retail practices are kept between the dealer and the OEM, and do not involve the customer, something the CEO saw as key.
Kawasaki Motorcycle Dealer: "Pied Piper PSI showed that we didn't ask for the sale, which surprised me... We're good at educating people, but that makes us a museum, rather than a retail outlet. We've already taken steps to change…"
Press: "Pied Piper PSI results show that it is possible for automobile salespeople to effectively ask for the sale without seeming either overbearing of ambivalent."
See how your dealerships compare:
If you work for a manufacturer or national dealer group, call or email to get started. If you work for a dealership, click here to go ahead and try Pied Piper PSI shopper evaluations at your dealership..
Some manufacturers even help reimburse the cost under training or dealer co-op--check with your manufacturers to find out--but above all, follow the advice of an editor writing about Pied Piper PSI: "Don't just accept lower sales and poor sales performance... Do something about it."
We look forward to helping you turn more shoppers into buyers.
Click here to see what Automotive News, Powersports Business, Washington Post, Detroit News, RV Business, Car & Driver, LA Times and others say about Pied Piper PSI.
---
© 2003-2013 Pied Piper Management Company, LLC. All Rights Reserved. |
Privacy Policy